Leimert Park Village, CA
As you walk down Degnan Boulevard towards the village's memorial fountain and park, you are overcome with an array of colors, sounds and smells. Members of the community of all ages come together to make music every Sunday afternoon at the African Drum Circle; children are dancing playfully and men and women are sharing stories and food prepared by their neighbors.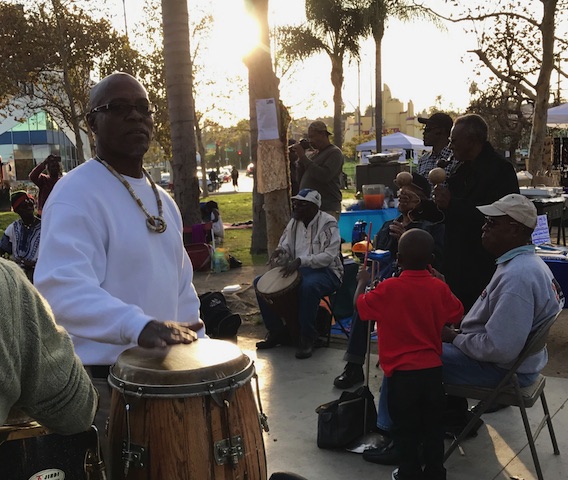 Just before entering the historical park, you are greeted by Willie Walton, who is selling an array of books, t-shirts and old records on the sidewalk. He stops you to discuss the current economic plight of the United States, retrieving one of the books on the pavement and handing it to you.
Every Sunday, Walton says he spends his afternoon displaying his favorite books, music records and other items on Degnan Boulevard as a way of giving back to the community.
"In my business of street vending, I sell books and records, because I believe in the power of music and education. We are at a point in America where dirt comes in all different colors. It's should be about like minds as opposed to like colors. You'll find more in common with people of like minds, than you will of like colors."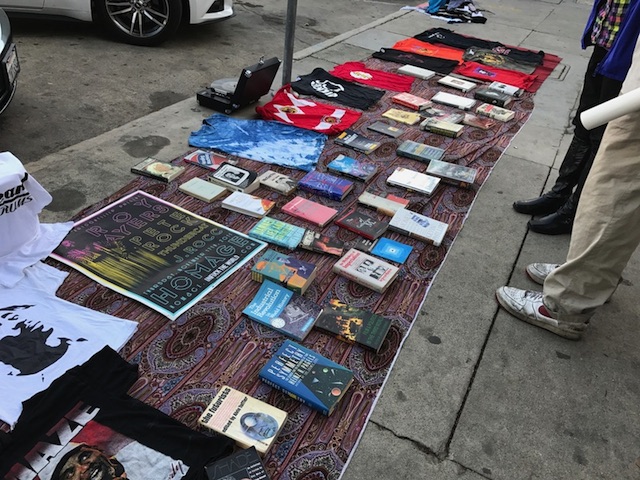 "As you can see from my books, I am very eclectic," said Walton, a local street vendor and musician in Leimert Park Village, when asked to describe his experiences with music.
"I play mostly 'American Funk', but I like everything, because every genre, just like every people, has something to offer. It so easy to say, 'I don't like Jazz.' Well, how do you know that? You haven't listened to all jazz, there are many different types of Jazz."